IR35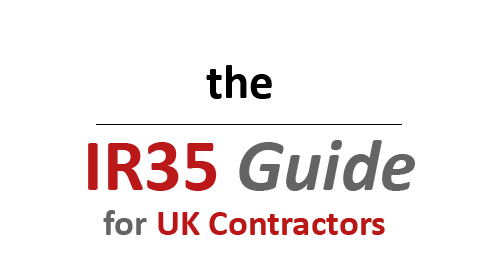 If you are a UK contractor, you would certainly not be alien to the term IR35. But if you are someone who is not a contractor, and if you are looking to jump into contracting – you should hold your guns and read this article before you make any decision. We suggest you to do this purely because, IR35 greatly affects UK contractors, in both public and private sectors.
We have prepared a guide to help you understand IR35. Read this guide to know the IR35 rules and understand how IR35 affects UK contractors, or if it applies to you as a contractor. Feel free to get in touch with us should you require additional information, help and advice or IR35 service.
Let's get started by getting the elephant out of the room, by answering the BIG question.
What is IR35?
Intermediaries legislation, commonly known as the IR35 legislation, was introduced by the UK government to curb tax avoidance via disguised employment. It was announced in a budget note in March 1999, but came into effect only in 6th April 2000, and this was again revised in April 2017.
What does the term 'disguised employment' mean?
In layman terms, any contract worker who is filling a full time position through an intermediary, and acts like a full time employee but tries to avoid corresponding income tax and National Insurance (NI) contributions falls under disguised employment.
Who does IR35 apply to?
IR35 applies to anyone who is providing their services to a client through an intermediary, i.e. it can be via a Limited Company or a Personal Service Company (popularly known as PSC) or a Limited Liability Partnership. These are the common trading methods used by a UK contractor.
What does inside IR35 and outside IR35 mean?
First let's begin with what is inside IR35:
Inside IR35 means, your contract and you as a contractor is deemed as a full time employee trying to avoid income tax and National Insurance (NI) contributions through disguised employment, by HM Revenue and Customs (HMRC).
Secondly, what is Outside IR35?
Outside IR35 is exactly the opposite of Inside IR35, which means you are deemed as a legitimate contractor by HM Revenue and Customs (HMRC), who is providing their services to a client, not trying to avoid any income tax or National Insurance (NI) contributions via disguised employment.
Is there a specific tool to find out if a contract is inside IR35 or outside?
Yes and No. While HMRC recently introduced Employment Status Service (ESS) tool to determine the IR35 risk, this tool is far from being accurate. You may use this tool to get a vague idea as to whether your contract falls inside or outside IR35, but we would strongly recommend not to rely 100% on this tool.
The best way to figure out whether your contract falls inside IR35 or not is by seeking professional help and advice. Get your contract thoroughly reviewed by an IR35 expert, rather than relying on the HMRC ESS tool or any other similar tool.
What are the penalties if a contractor is caught inside IR35?
As a contractor, you could end up paying 25% or more in income tax every year if your contract is caught inside IR35 or deemed as disguised employment by HM Revenue and Customs (HMRC). There could be other legal implications too. It's always advisable to get your contract reviewed by an IR35 expert.
Also, speak and discuss with the recruitment company you are dealing with about your contract's IR35 status. Make sure it does not have any clause which may land you in trouble.
Can I challenge HMRC's decision if I feel that my contract is wrongly caught inside IR35?
Yes, you can always seek legal and professional help if you think that your contract has been wrongly caught inside IR35 or if you have been wrongly penalised by HM Revenue and Customs (HMRC).
Are there any IR35 insurances available in the market?
Yes, they are available. Many specialist contractor insurance brokers provide IR35 insurance which protects you should you land into trouble.
HMRC IR35 Helpline details
You can email HMRC for help with IR35 enquiries on [email protected]. You can call on 0300 123 2326 or fax on 03000 533 124.
You can also write to HMRC for help with IR35 enquiries via post and send it to the following address:
HM Revenue and Customs
IR35 Customer Service Unit
S0733
NE98 1ZZ
Newcastle Upon Tyne
United Kingdom
For more details on the helpline, you may want to visit GOV.UK IR35 Helpline page.
Click Here to read latest news and updates on IR35.
Should you need any professional advice, please feel free to get in touch with us. We have a panel of IR35 experts who can not only help you review your contract, but can also offer you legal advice, should the need arise.
You can fill in the Request a Call Back form on this page or simply write to us at [email protected] and we will be more than happy to help.
Request a call back