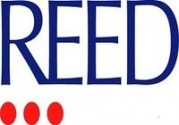 Recruitment Team
Reed Online Ltd, Academy Court, 94 Chancery Lane, London, WC2A 1DT
In 1995, reed.co.uk became the first recruitment website offered by a recruitment agency in the UK. Since then, reed.co.uk has branched out to become the UK's #1 job site, featuring vacancies from over 8,000 recruiters, including private and public sector employers, leading recruitment agencies and consultants from Reed's network of 350 offices across the UK, and around the world.
Our mission is simple: to help the world Love Mondays.
Each month, more than 3.6 million jobseekers turn to reed.co.uk in their search for work, making over 80,000 applications every day.
Take a look around reed.co.uk and you'll find jobs across 42 industry specialism's, from thousands recruiters across the UK and beyond.